Injection systems DUO, for sealing of daywork joints in concrete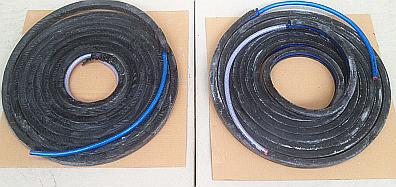 Single-wall hose (PVC) with holes or conical cuttings (slightly converging from inside to outside) – for output of pressurized injection materials for sealing of workday joints of underground structures. The holes close due to their special geometry and prevent efficiently penetration of the cement mixture into the transport channel.
The injection hose is used for multiple sealing of workday joints, which are permanently or alternatively loaded by groundwater, sewer water or surface water.
Technological advantages of the injection hoses IH 12/6 and IH 18/10
Simply applicable for injection with polyurethane resin.
Multiple injection using the polyurethane resin (MEDIATAN type) possible.
Sufficient cross-section of the transport channel and output holes after embed in concrete decreases the internal friction of injecting material – economical injection length. In case of injection hose IH 18/10, the inner diameter allows for triple length of injection route.
Penetration of cement mixture during placing of concrete is avoided.
Robustness when installing on site – including the fixation system.
Simple and time-saving handling and installation.
None undesirable twisting of the roll when installing, owing the round-shaped hose.
When buried in concrete, the injection material outputs from the hose system immediately at the common pressure – i.e. uniform material output is secured.
The output holes are conical (from inside to outside) = only low frictional resistance of the holes is to be overcome.
The smooth surface prevents from undesirable connection between the injection hose and concrete – that's why the injection system is very simple and the injection using the desired injection material is possible.
Even the injection after years is possible – the smooth surface prevents the hose from "ingrowth" into the concrete.
Very good performance ratio.